25 Stylish Bunk Bed Ideas to Make the Most of Your Space
Bunk beds aren't only reserved for children's rooms. While kids find them fun — especially the act of climbing up and down and having the option to be above or below — there's a charm that bunk beds can bring to adults, too. They're practical, convenient, space-saving solutions for small rooms. So if you're looking to maximize your space and add style to your bedroom at the same time, we're sharing chic bunk bed ideas to inspire your next look.
Bunk beds are great for a kid's room, a primary bedroom or even a guest bedroom. But if you want to upgrade your design scheme with this particular type of bed, there are a few things to consider before searching for the right one. Make sure your bunk bed of choice is sturdy and the right size to fit the layout of your room. After considering these variables, plan how your bunk bed will fit in with the overall aesthetic of the room. Regardless of whether you want a modern, bohemian, coastal or moody feel, these ideas will help you choose the perfect bunk bed look to complete your space.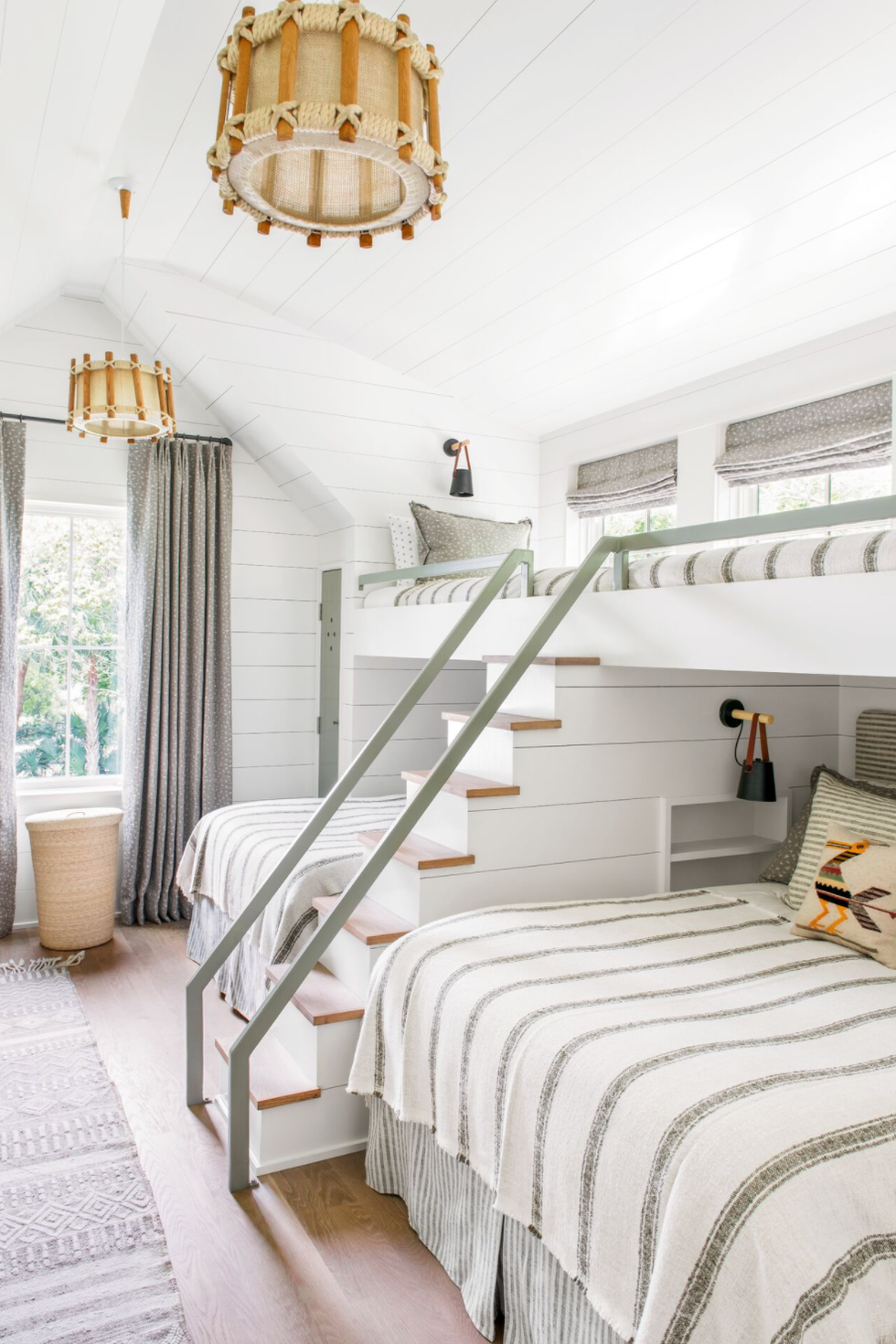 Katie Charlotte
1
Upgrade the Staircase
Deck out the bunk beds in your guest room with a mini staircase that also acts as a focal point. These bunk beds by Cortney Bishop Design have a pastel green and white palette that adds to the room's cozy feel.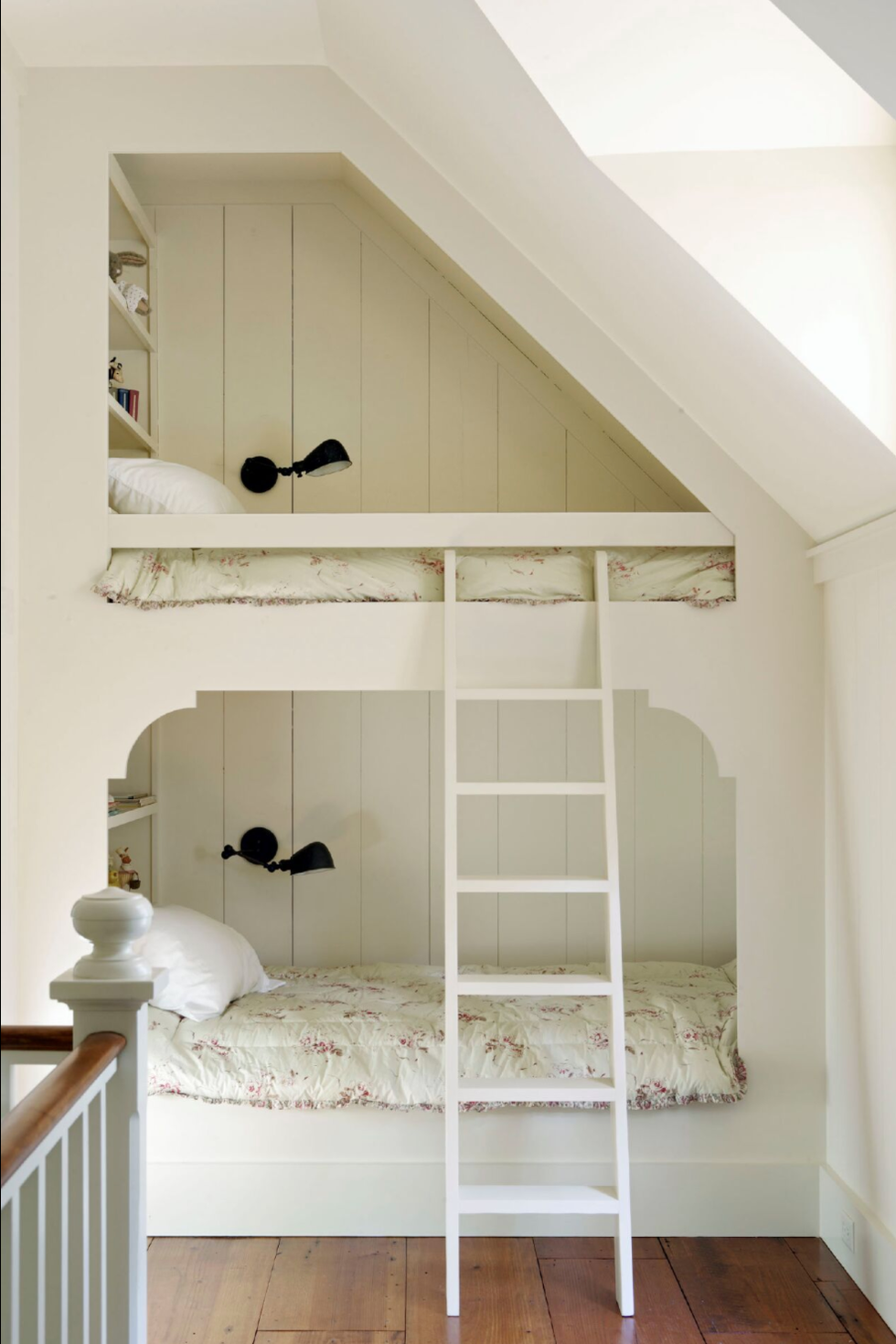 Richard Leo Johnson
2
Create a Bunk Bed Nook
Maximize your space by designing bunk beds within the wall. Designate an area by the stairs or in the corner of a room for a unique built-in setup.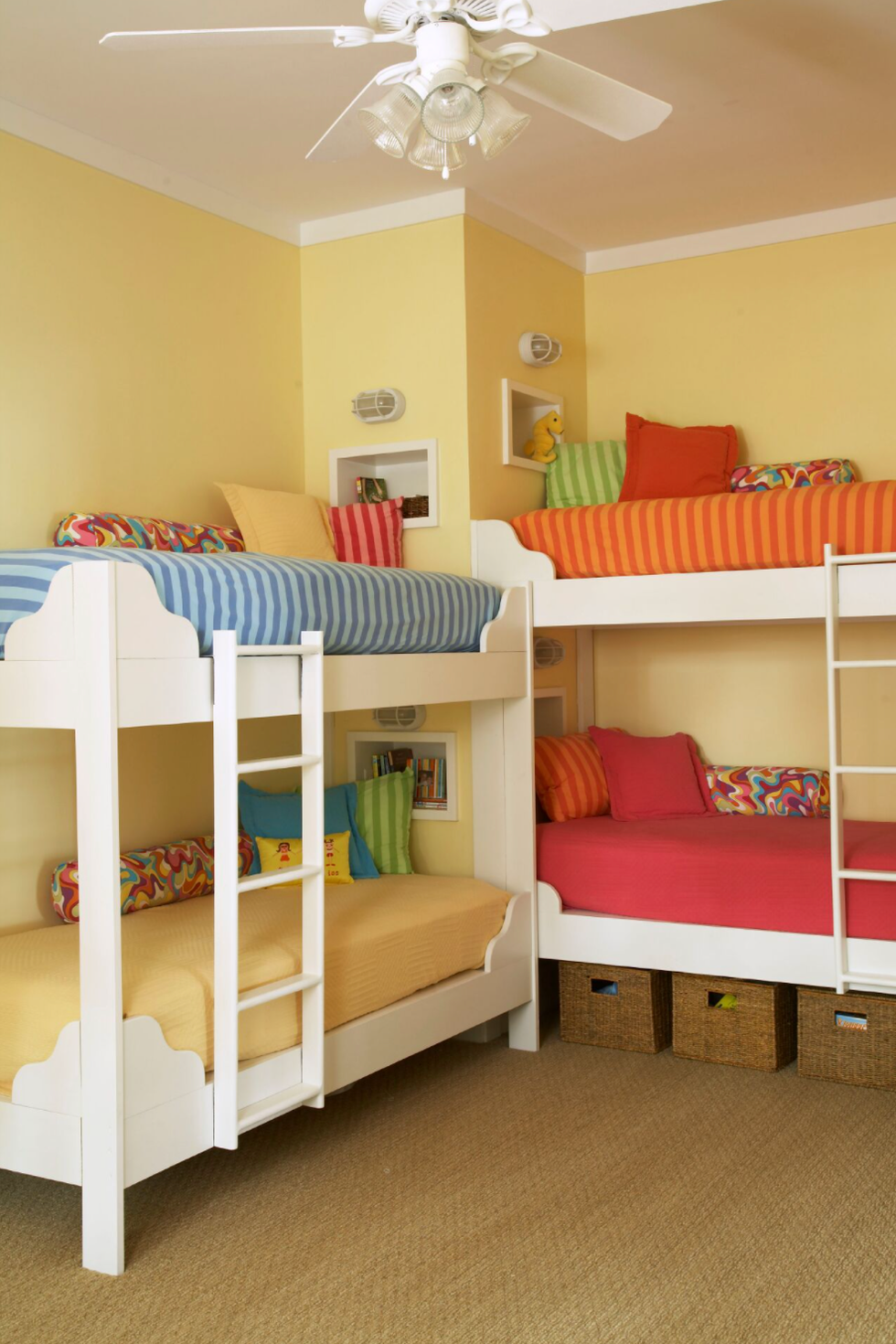 Tria Giovan
3
Use Old Vintage Wood Furniture
If you're opting for DIY bunk beds, use simple wood pieces to put everything together. These beds have a playful yet simple design that make it comfortable for kids.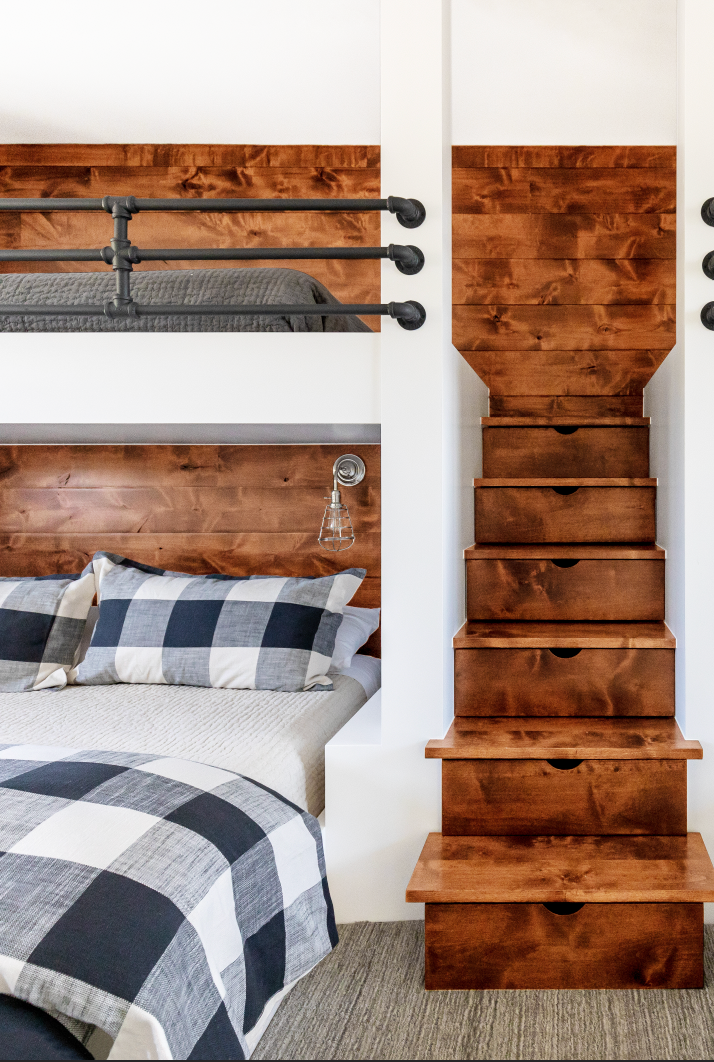 Lindsay Salazar
4
Let Wood Shine
Design the staircase and wall with wood, making the rest of the all-white room and bed structure stand out — similar to this look by House of Jade Interiors.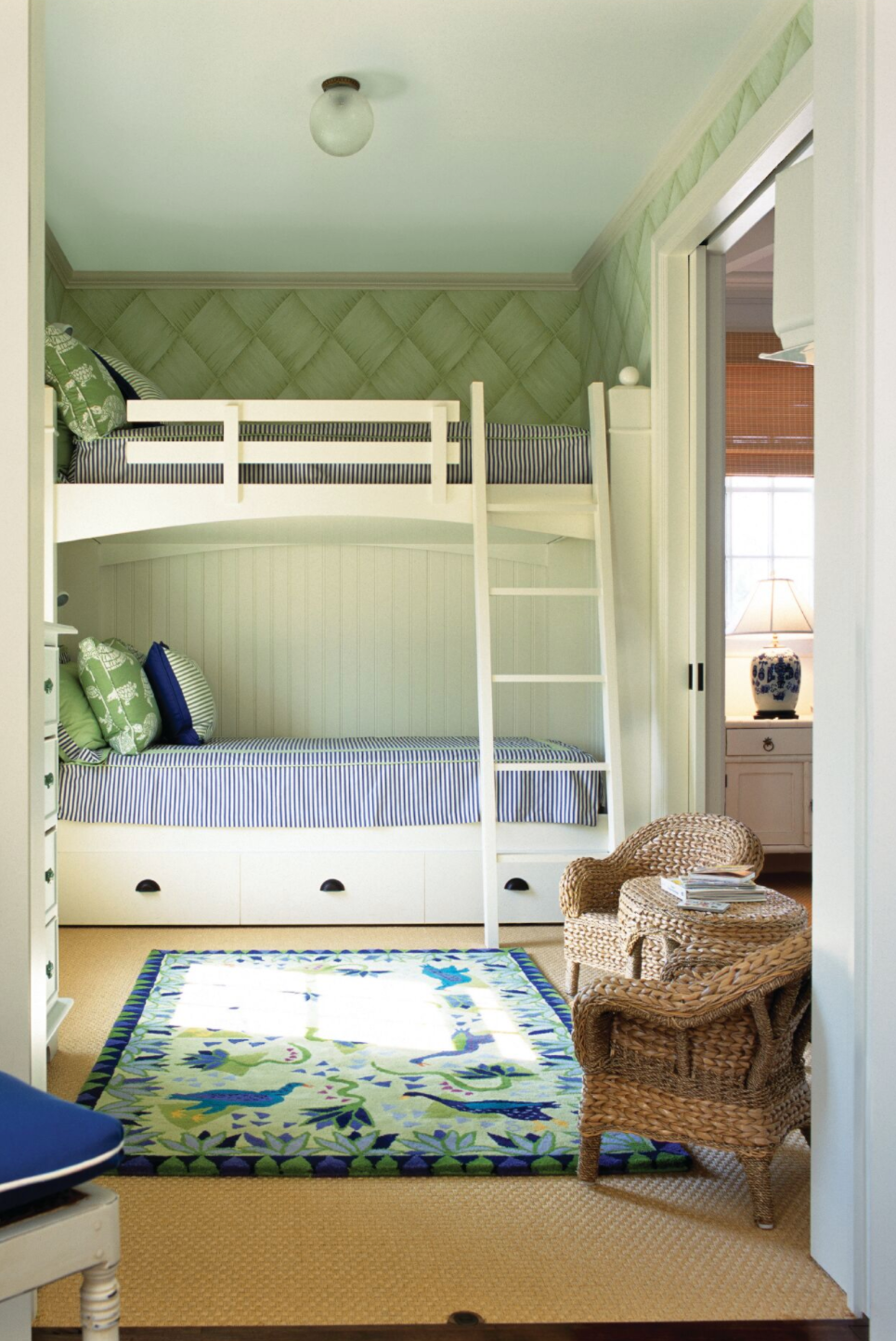 Courtesy
5
Neutral Pastels
If you're unsure of how to decorate your guest bedroom, go for pastel shades. Think a blend of soft green, smoke and cloud white. Design your bunk bed to match the overall decor, including any wicker furniture, as seen in this room.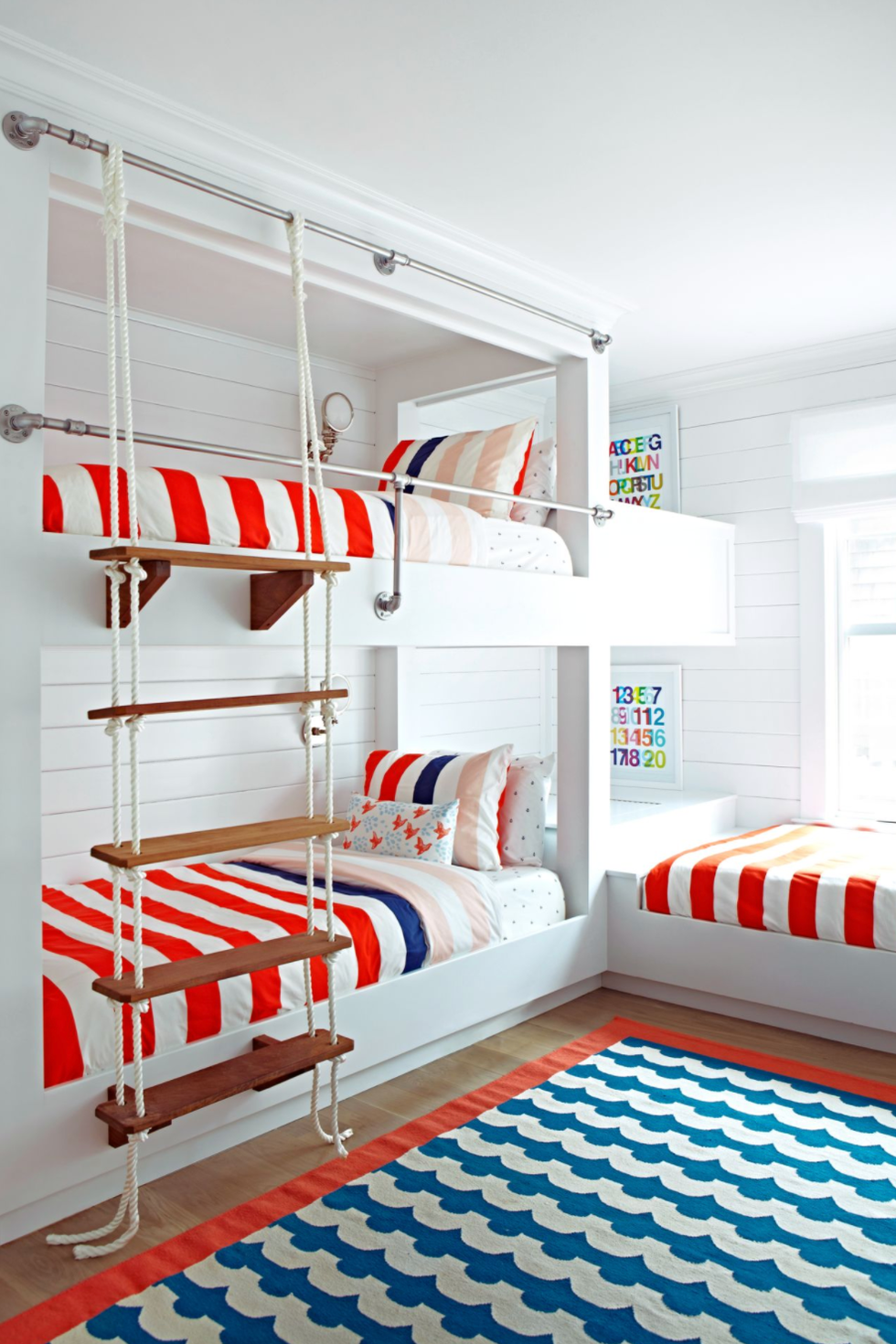 Jacob Snavely
6
Bring on the Beachy Vibes
If you can't take the kids to the beach, bring the seashore vibes right to their room. This includes an ocean-inspired rug, red and blue-striped bedding and a stepping ladder fit for a captain on a ship.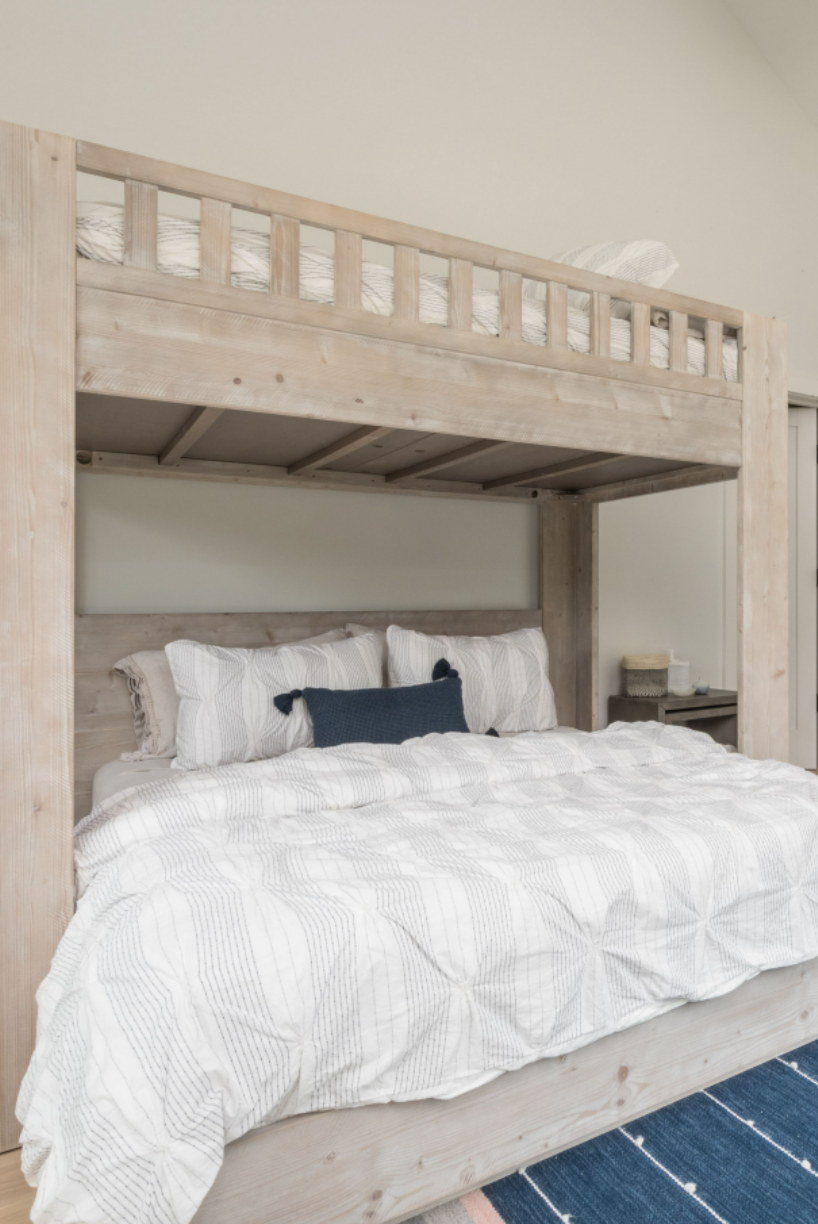 Tim Hill
7
Use a Full Bed
The bottom of a bunk bed doesn't have to be a twin. A full bed can be an unexpected option, providing there's enough space. Parents can sleep on the bottom and their little one can climb to the top if there are ever any nighttime fears.
Design by Nicole Fisher of BNR Interiors »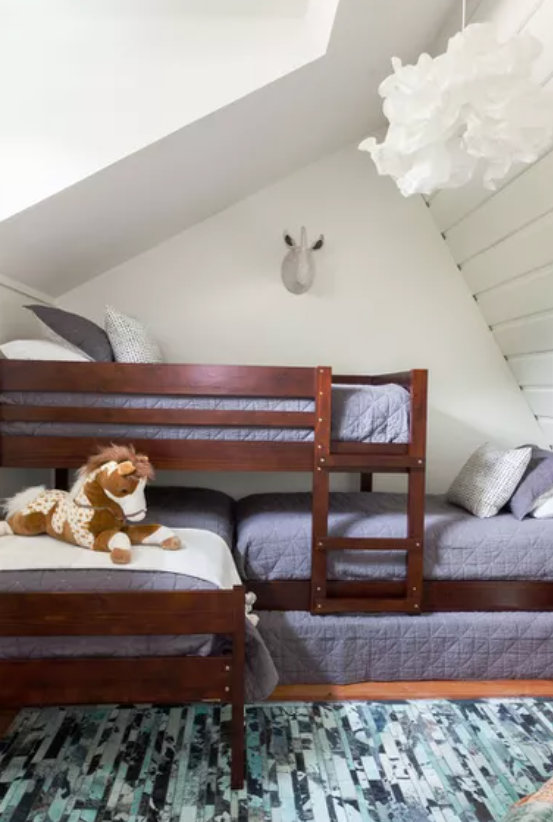 Erin Williamson Design
8
Make Use of the Space
Fill out the entire room with a bunk bed for three. This arrangement by Erin Williamson Design is great for an attic or the smallest room in the house.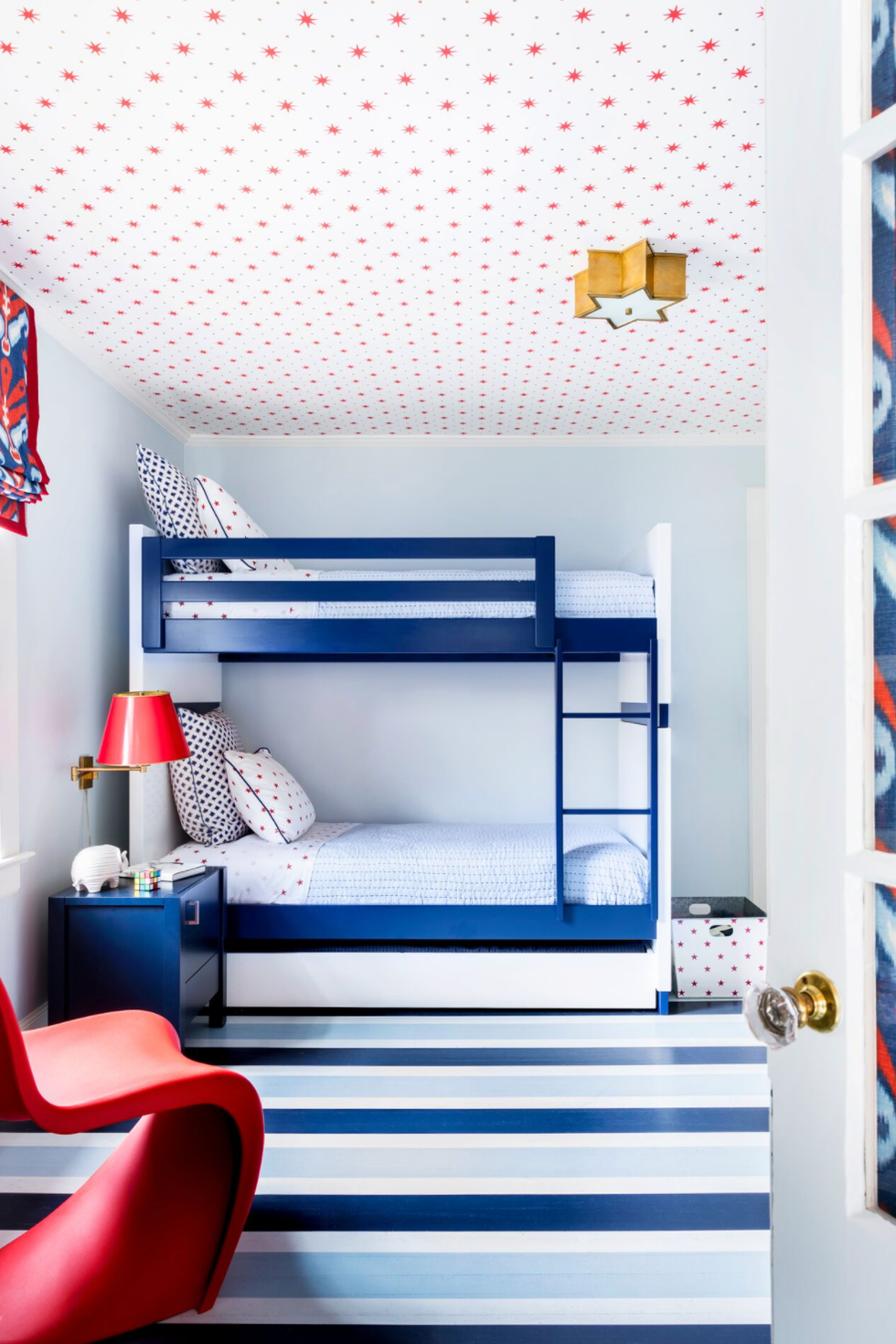 Lesley Unruh
9
Design a Nautical Look
Design a bunk bed around a nautical theme to bring a cool and comforting feel to your kid's bedroom.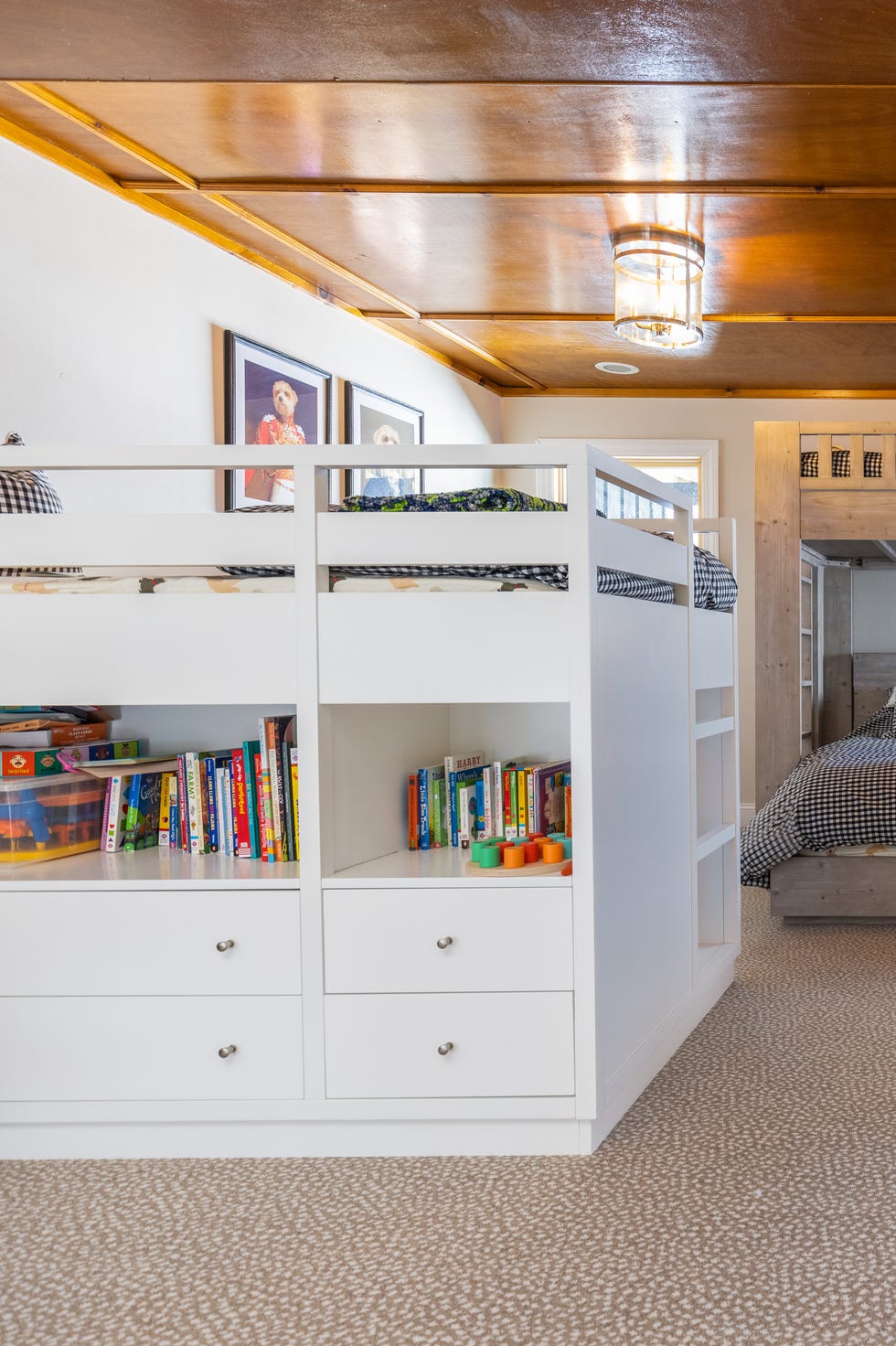 Alon Koppel
10
Don't Forget to Add Storage
Nicole Fisher of BNR Interiors gave this large room extra storage by building shelving and drawers into the lower portion of the bunk beds. This leaves plenty of space for kids to store their toys, books and seasonal clothes.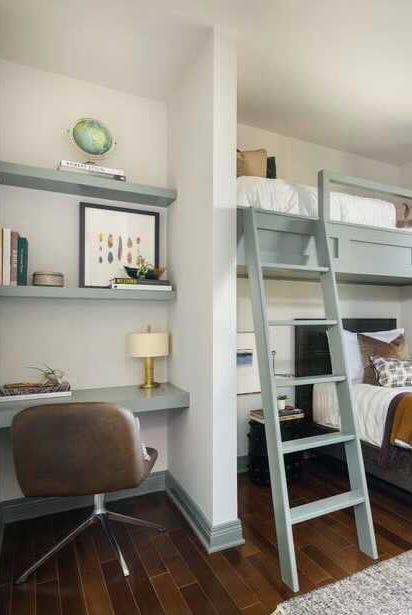 Andrew Kung
11
Incorporate an Office
If your home isn't set up for a designated office space, placing a compact workstation near a bunk bed is the next best thing. Just stick to the same color scheme to achieve a cohesive feel.
Design by Leslie Cotter Interiors »
Build by Ramage Company »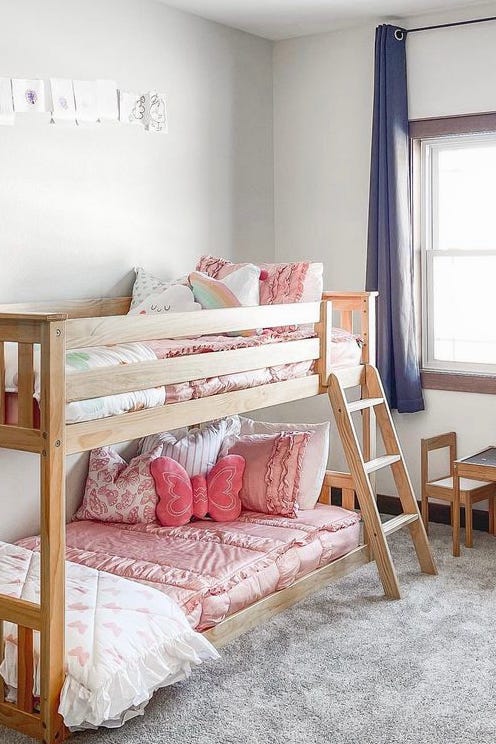 House of Eilers
12
Keep it Simple
This room by House of Eilers has a playful and girly feel that's perfect for your little princesses. The low-profile wood structure is simple and makes a great addition to a neutral bedroom.
13
Create a Dark and Moody Theme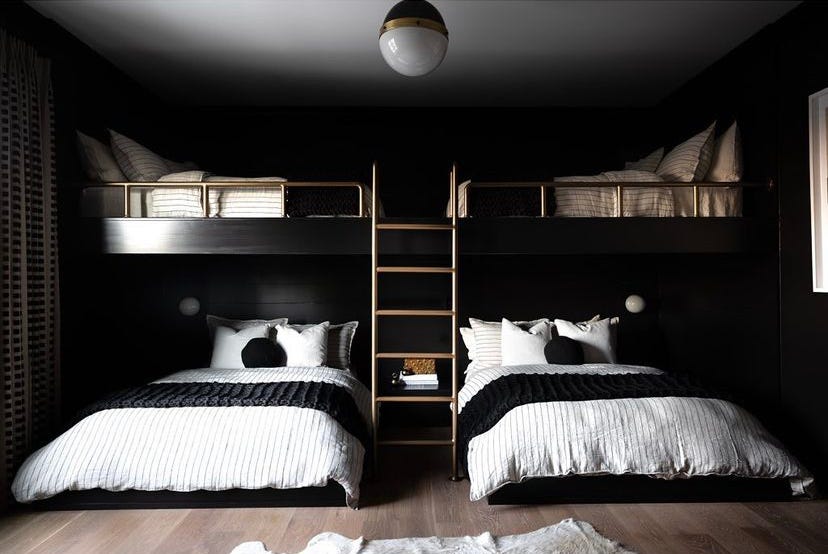 Tim Furlong Jr.
A moody room doesn't have to be boring. Take inspiration from this space designed by Mrs. Paranjape Design + Interiors, which has a striking black and white palette that gives the room a modern and elegant feel.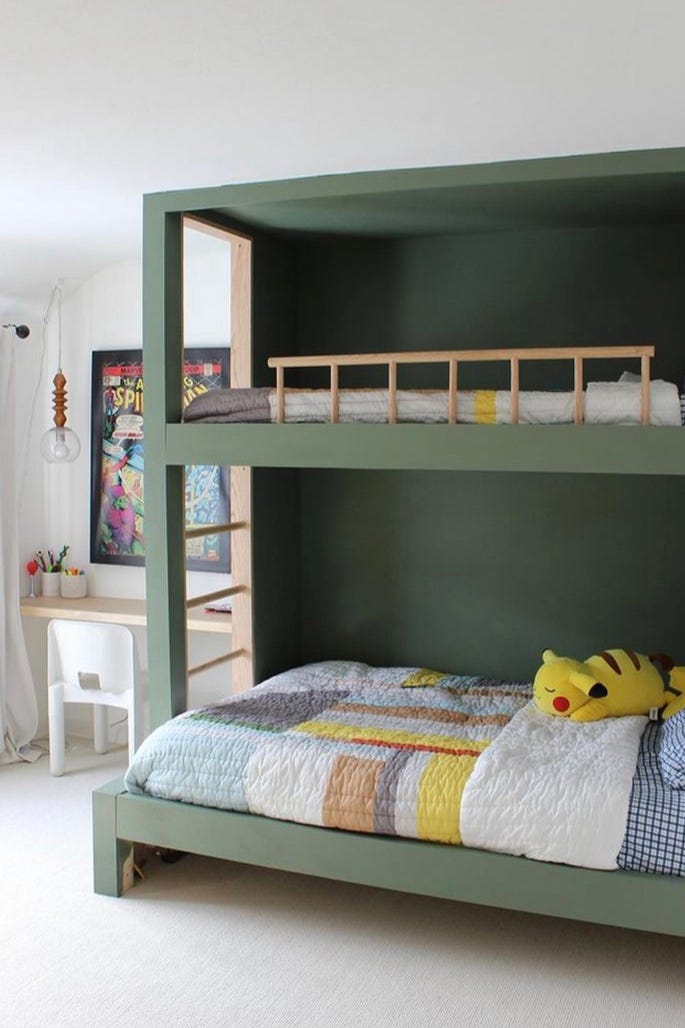 Lauren Koster Creative
14
Think Ahead for the Kids Room
Plan ahead and design a bunk bed that kids can grow with and love as they get older.
Get the tutorial at Lauren Koster Creative »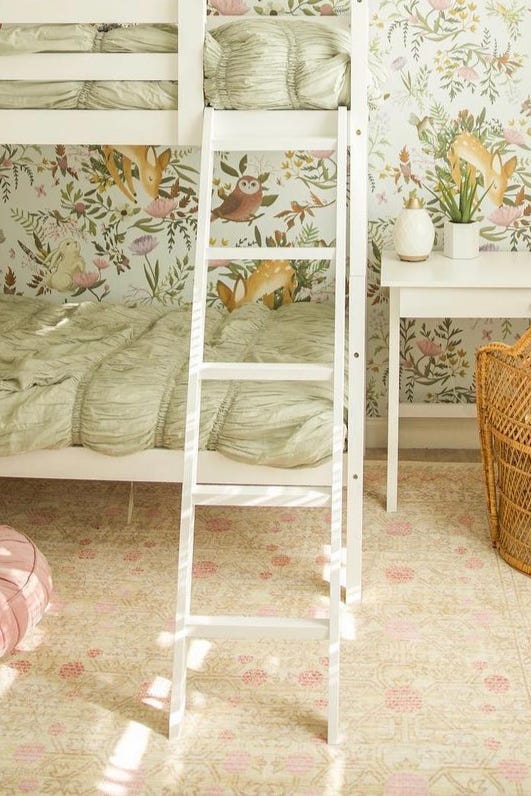 In Honor of Design
15
Add a Botanical Theme
It's always fun to decorate a kid's room around a specific theme. The perfect example? Mother Nature. Simply go for a mix of botanical and animal prints, but stick to white bunk beds to bring balance to the room.
Get the look at In Honor of Design »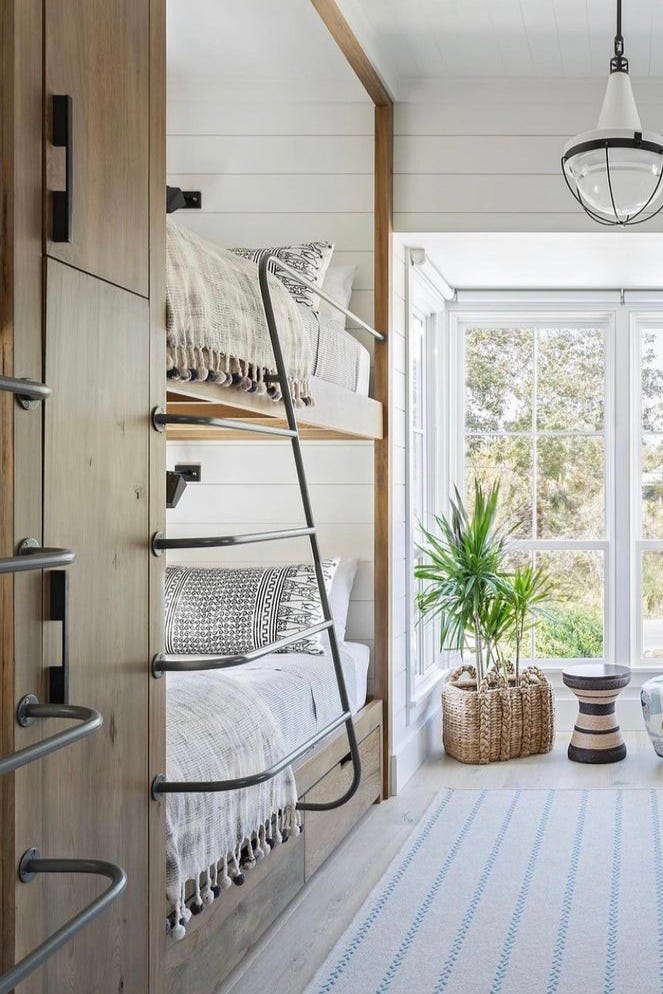 Julia Lynn
16
Go for Shiplap
Jenny Keenan Design selected classic white shiplap walls and a sleek wood bunk bed for this airy setup. A woven basket for greenery and a striped rug and stool add to the warmth.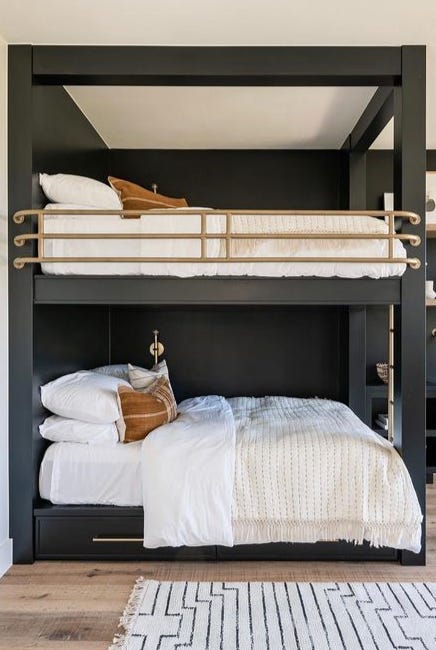 Rebekah Westover Photography.
17
Add Gold Railing
Take a cue from Becki Owens and deck out a black bunk bed with a decorative railing in a gold finish. The contrast is an easy way to boost a bedroom's visual appeal.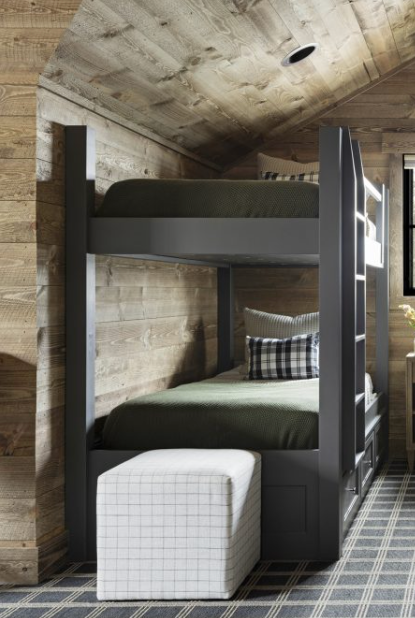 Spacecrafting Photography
18
Embrace a Rustic Feel
For a rustic look, you can't go wrong with mixing wood tones. This room's light wood walls act as the perfect counterpoint to the dark bunk bed frame.
Design by Bria Hammel Interiors »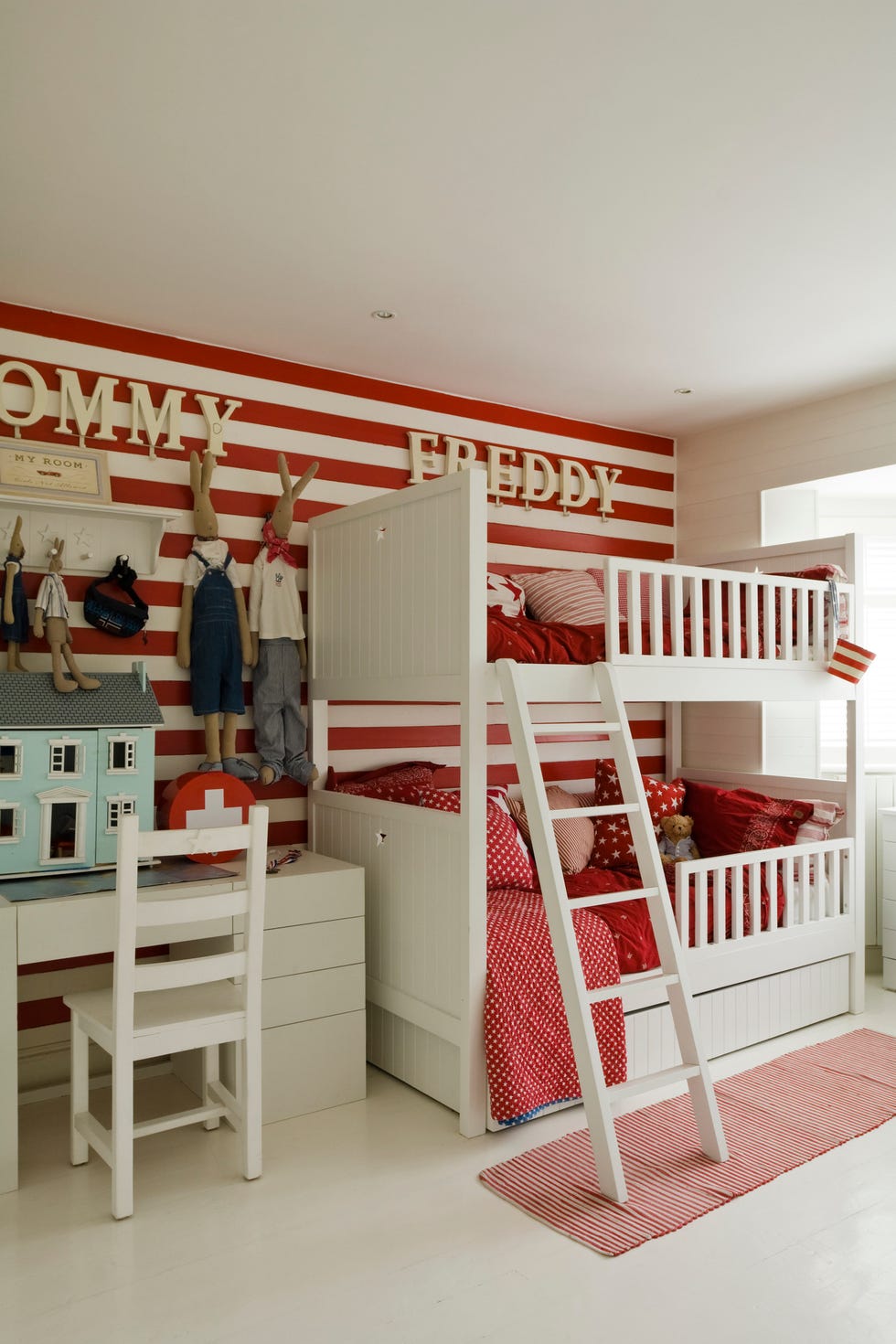 Andreas von Einsiedel/Getty Images
19
Design the Perfect Playroom
Make the most of your kid's space by setting up a play area alongside bunk beds for even more fun.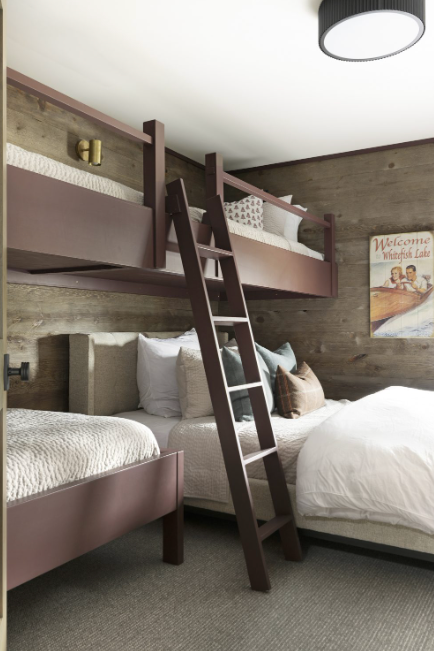 Spacecrafting Photography
20
Opt for Deep Rich Colors
Set the mood by layering brown hues as Bria Hammel Interiors did in this inviting bedroom.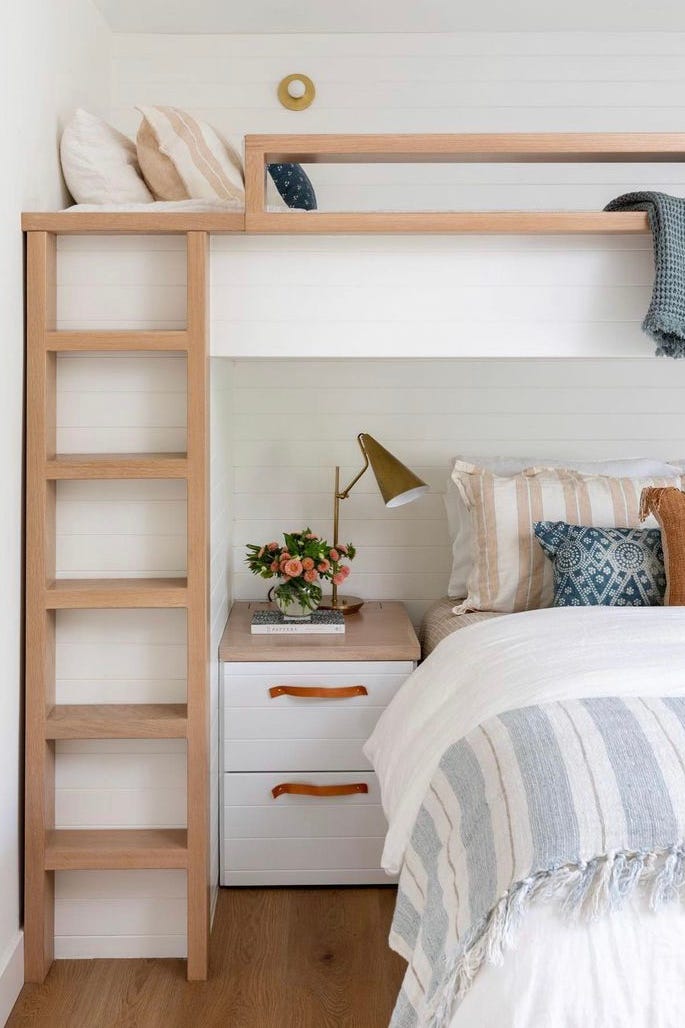 Molly Rose
21
Leave Space for a Nightstand
Carve out space below for a handy piece of furniture — such as a nightstand — to place a lamp and make room for nighttime essentials. Don't forget to include florals, as seen in this space by Madison Nicole Design.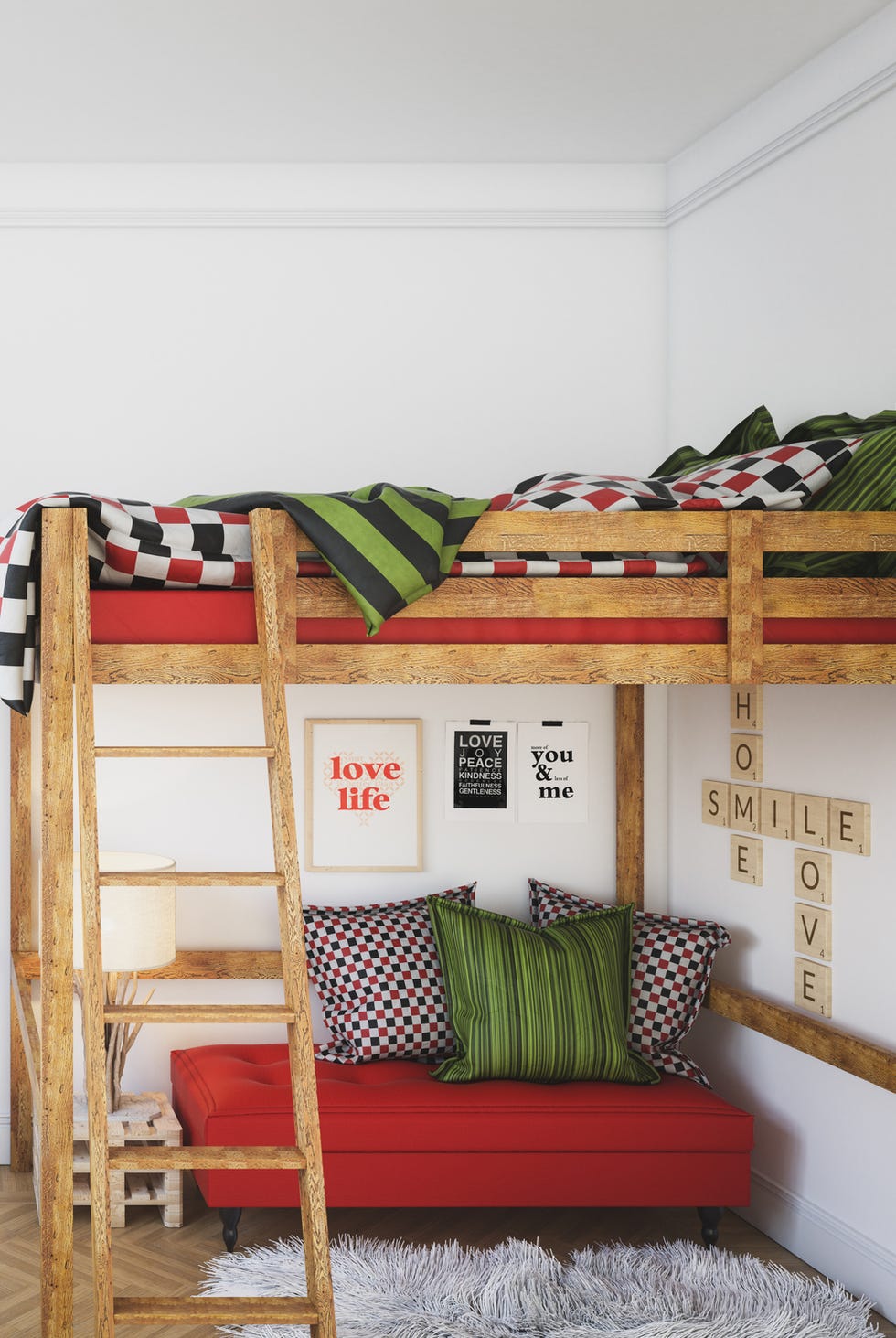 Bulgac/Getty Images
22
Skip the Bottom Bunk
Looking for a way to mix things up? Swap out the bottom bunk for an ottoman or lounge chair.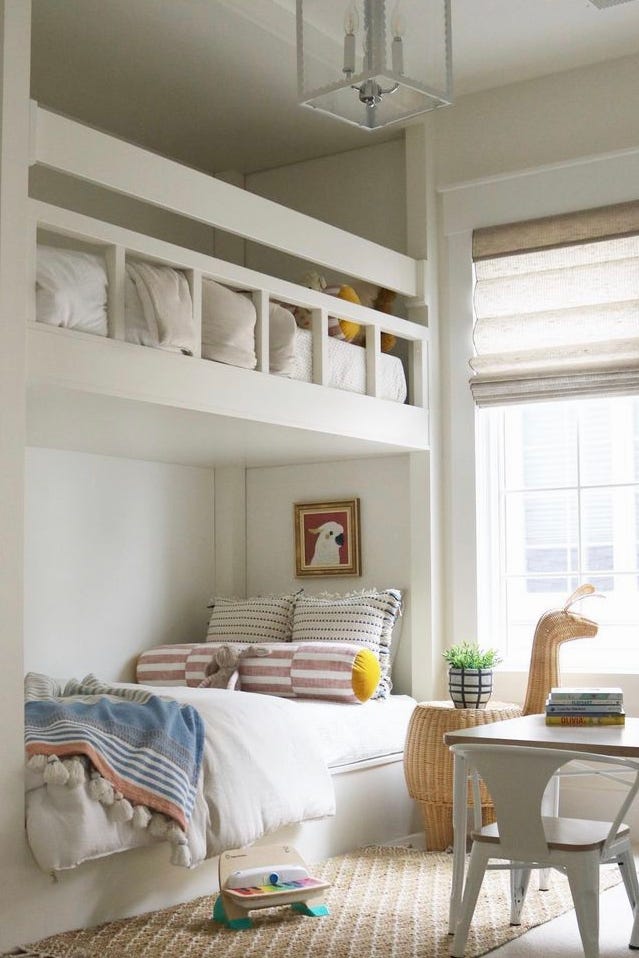 Bridget Beverstock Interiors
23
A Soft White Palette
White has the power to brighten any space, and this design by Bridget Beverstock Interiors is proof.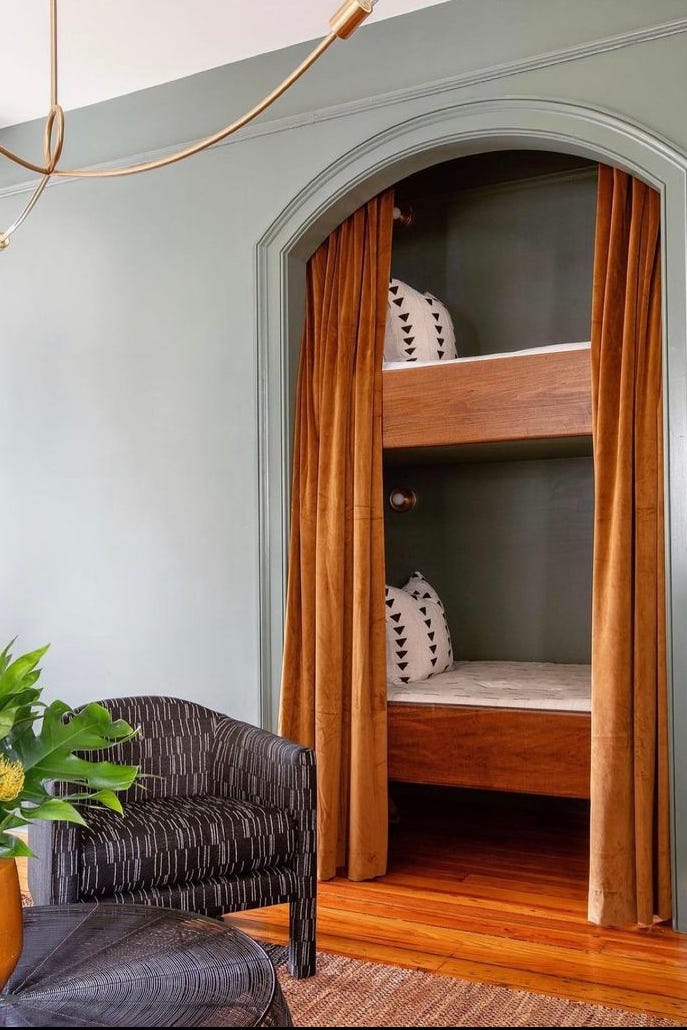 Margaret Wright
24
Install a Built-in Bunk Bed
Dreamed up by Demilio Design, this bunk bed is cleverly hidden by trendy velvet curtains. This installation not only saves space — it makes for a unique addition to any room.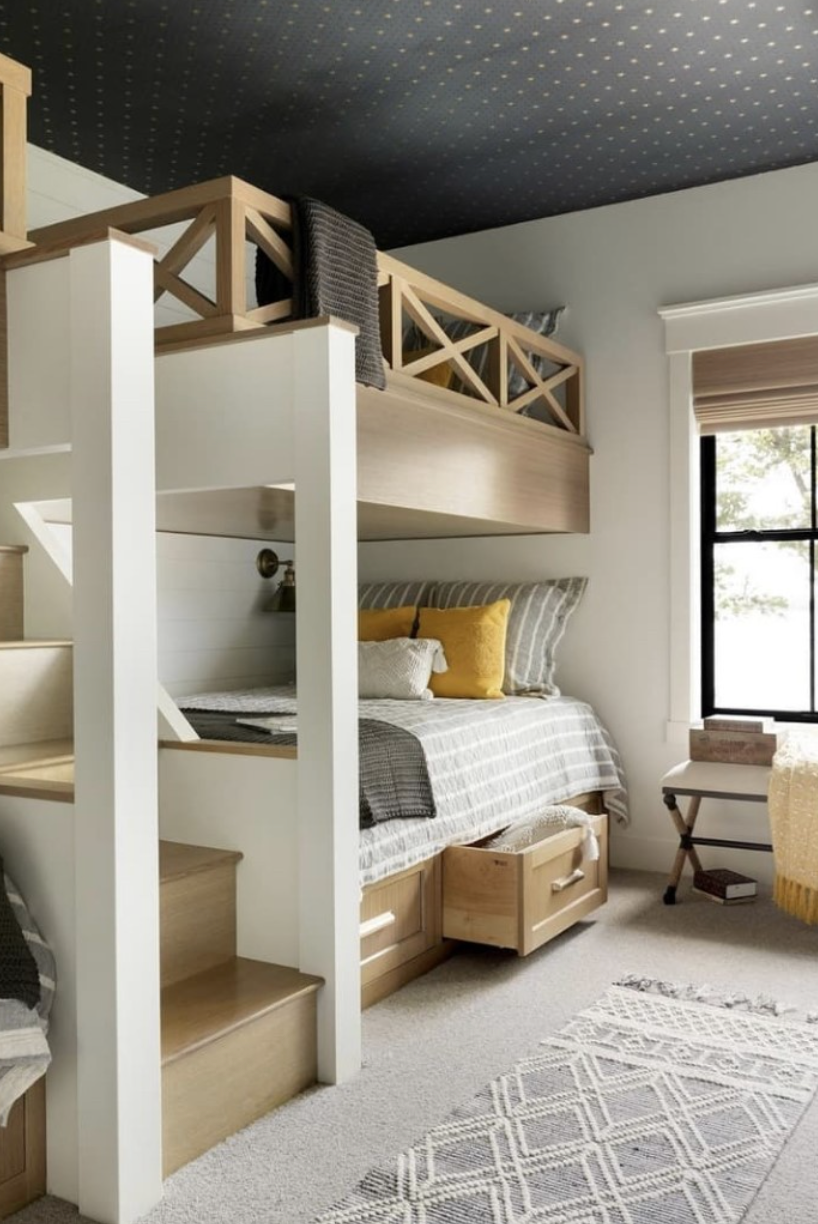 Spacecrafting Photography
25
Design an Intricate Railing
Whether your bunk bed is for you or your kids, a substantial railing helps to prevent anyone from falling. Try a criss-cross design to make the set stand out, similar to this one by Martha O'Hara Interiors and JPC Custom Homes.