21 Creative DIY Balloon Decoration Ideas for Your Next Party
Choose from these 21 DIY balloon decorating ideas to make your next party or event extra special.
Whether you want to make a majestic balloon arch, a stately column, a fancy centerpiece or an epic balloon backdrop -- you can be sure to find both inspiration and how-to instructions in my hand-selected list.
Spiral Balloon Arch

Ever wondered how to get this enchanting spiral pattern into a balloon arch? It's a simple trick of arranging balloons in contrasting colors.
String of Pearls Arch
The classic, floating "String of Pearls" arch creates an elegant frame for a wedding head table. It's one of the easiest designs you can make yourself. Just follow our balloon arch step-by-step tutorial here.
Balloon Columns
Balloon columns (also called pillars or towers) offer countless variations in style, size, color and pattern. You're bound to find one that suits your special event.
Ideal in combination with balloon arches, or as standalone eye catchers, balloon pillars are often placed at both sides of an entrance, table or stage.
The technique behind making balloon columns can also be used for other balloon decorating ideas, like bride & groom or snowman balloon sculptures.
Photo source: Pinterest
Balloon Bouquet (Staggered or Cascading)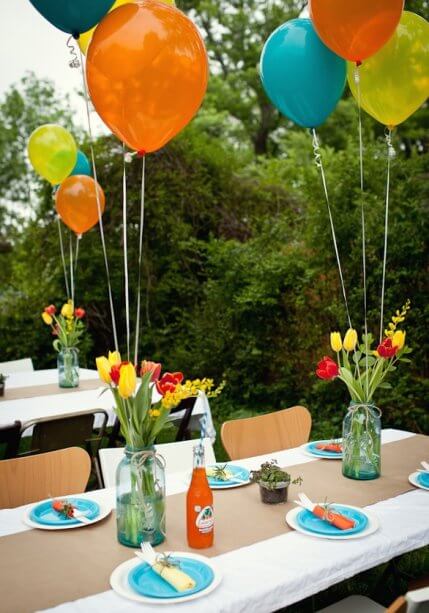 The variations for balloon centerpiece decorations are endless, making them ideal for birthday parties or other special occasions. For example, you can vary the number of balloons (anything from 3 to 10 balloons is possible) and the way you arrange them (staggered or stacked).
The image shows a simple, yet impressive example of a staggered design with just 3 balloons. Learn how to make this type of balloon bouquet here.
Balloon Bouquet (Stacked or Layered)

Combine plain balloons with printed ones, or latex with mylar balloons. Set romantic accents with tulle.
There are many different ways to create beautiful matching bases for your balloon bouquets. In this example of a stacked or layered bouquet, we've used a potted plant as base.
Perfect as balloon decorating ideas for Valentine's or Mother's Day!

Hot Air Balloon Centerpiece
A unique way to surprise your spouse or friend with a gift voucher for a hot air balloon ride, or a perfect décor on its own.
Hot air balloon centerpieces are such a fun balloon decorating idea and easy to make.
Organic Balloon Arch
You'll find lots of organic balloon arch and garland kits on Amazon, in different color combinations and sizes. Simply do a search for balloon arch.
Organic balloon decor is a new and growing trend. I don't know about you, but I absolutely LOVE those designs.
While in traditional balloon decorations it's all about blowing up the balloons to the exact same size, organic balloon decor gets its fanciful look from mixing balloons in many different sizes.
The organic arch in the image above was created by one of our readers, following the instructions we provided.
Giant Confetti Balloons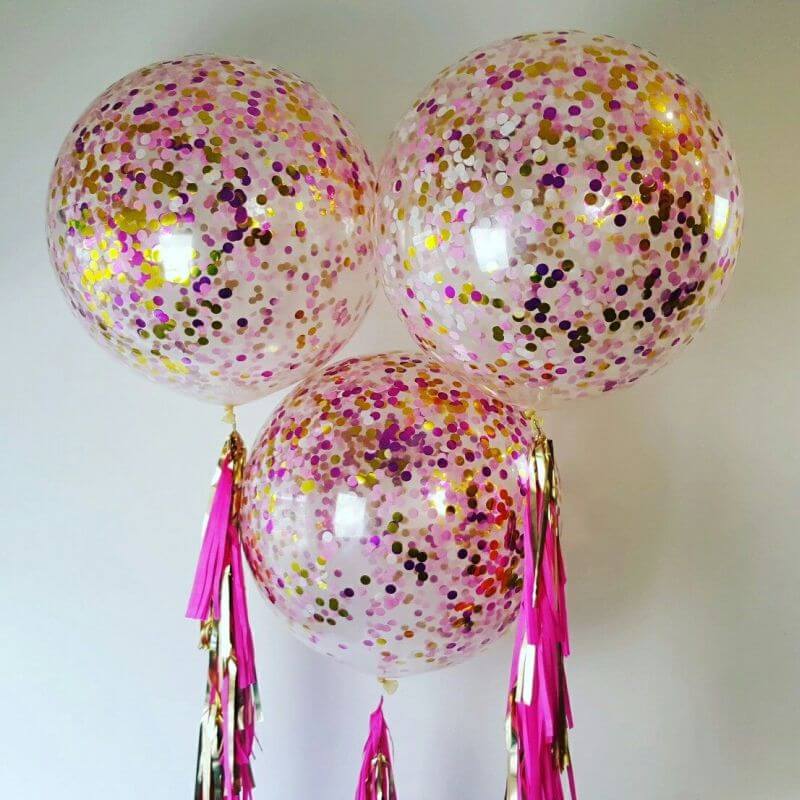 Another one among my all time favorite balloon decorating ideas. Giant 3 feet clear balloons with confetti and color matching tassels.
Just imagine having these floating above the tables at a wedding reception or graduation party. Heavenly! Learn how to make confetti balloons yourself.
Take a look at these 36 inch balloons. They come prefilled with multi-colored confetti. Best is to inflate them with air, shake them to distribute the confetti around and then rub the balloon against a carpet to make the confetti stick to the side.
I've also read that adding a drop of water before blowing them up helps with getting the confetti to stick to the side of the balloon.
If you inflate them with helium, the confetti will settle at the bottom. Due to the weight of the confetti, it will also not float as well or as long as an empty balloon.
Writing on Balloons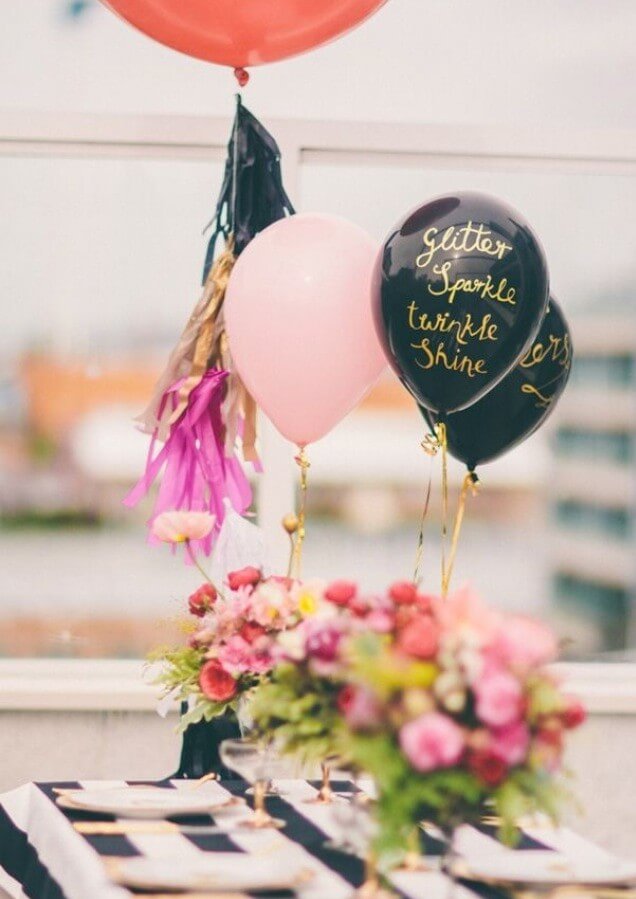 I often get asked how to write on latex balloons. There are several types of markers you can use. Gold letters on black balloons is for sure one of the most sparkling idea for customizing your latex balloons.
Heavenly Balloon Decorating Ideas for Your Pool Party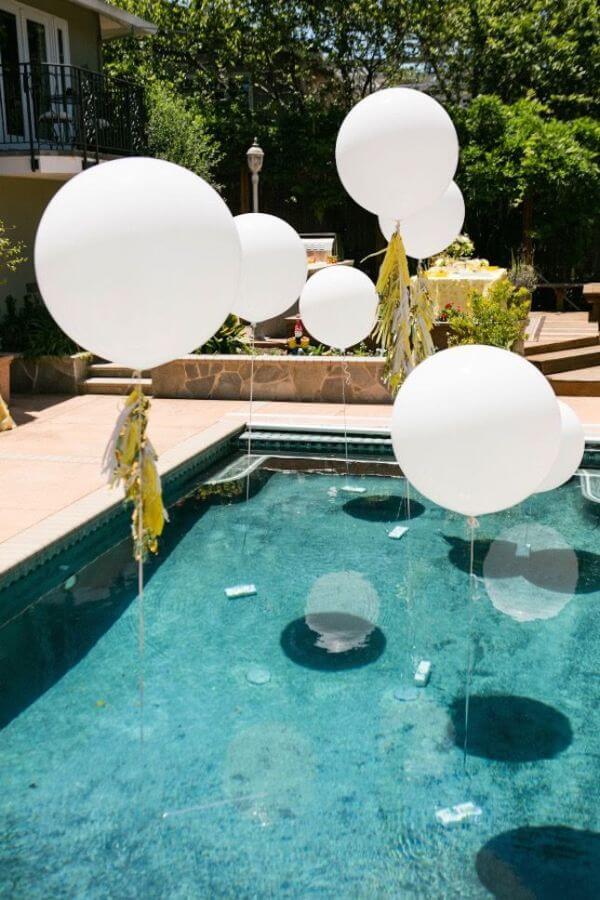 Simply awesome. `Nough said. In case you wonder what weights to use so that the balloons float majestically around the pool, read my tips here.
Gumball Balloon
A lovely idea for any mom to be! Also works great as a personalized gift idea for birthdays, anniversaries, graduations or any occasion worth to celebrate.
Creating these gumballs is easiest with a specialized balloon stuffing tool. But you can also give it a try with our instructions how to manually insert smaller balloons into larger ones.
Link-o-loon Rainbow Arch

Link-o-loon balloons have special "tails" at the opposite end of their necks. This makes it super easy to tie them together and create glorious floating arches, as seen in the picture.
They also make for a cute entrance decoration. If you lean the arch against the wall, you can fill the balloons with air instead of helium. Here are some tips about making a link-o-loon arch.
Tulle Covered Balloons
These tulle balloons are a dream for any wedding cake table, baby shower or pastel themed summer party.
Very important: if you want them to float, choose large balloons (30 or 36 inches), good quality helium and very light weight tulle. Smaller balloons often get weighed down by the tulle and won't float.
Balloon Ceilings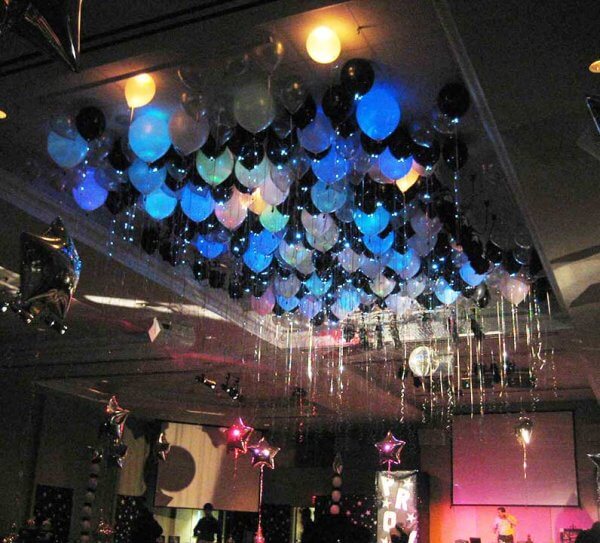 Another awesome and rather simple (but not cheap, you need lots of helium) balloon decorating idea: balloon ceilings. The tricky question is: how do you keep them from floating around the room? Read my advice here.
Floral Balloon Backdrop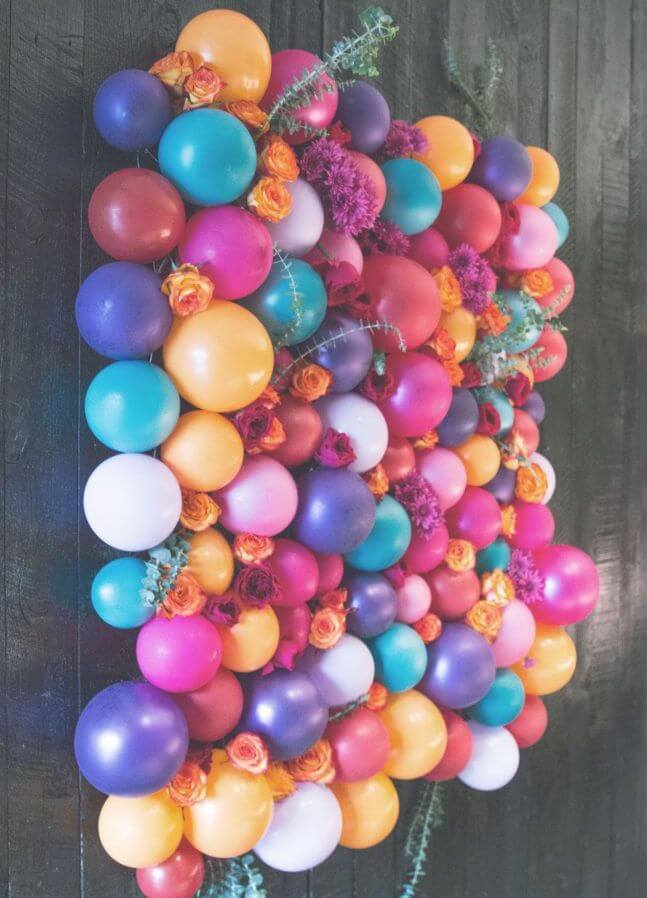 Not only will you create a real eye-catcher with this balloon backdrop, but you'll also get a lovely scent from the floral arrangements.
Balloons and Flowers Fairy Arch
I agree with Toni from Design Dazzle that this flower and balloon arch makes you feel like you are about to enter a fairy tale.
What a creative balloon decoration idea for a garden party! And think about the awesome pictures you can take with this kind of background.
A Swarm of Bumble Bee Balloons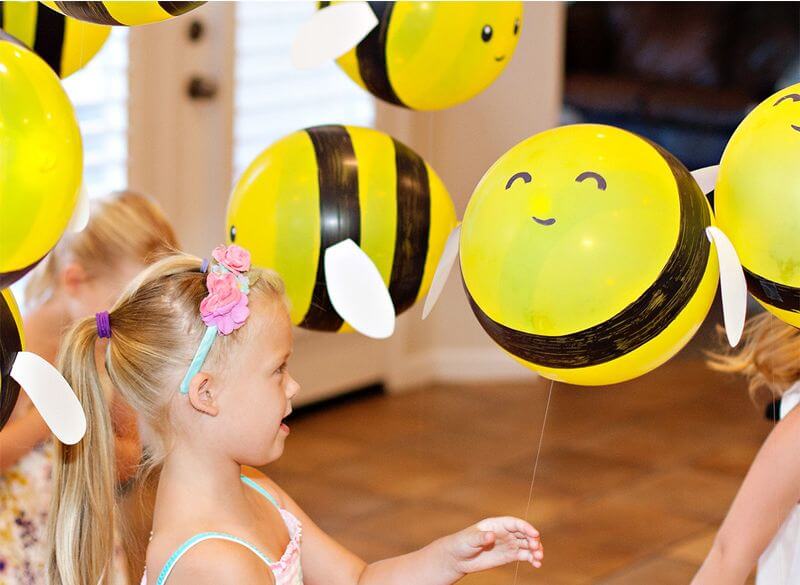 Cute idea for your little girl's or boy's birthday party. The kids will have fun helping you make those happy yellow bees, too. And you can create a joyful happy birthday video of them making the bees and playing with them on their special day.
Fruit Balloon Garland
Anyone fancy some grapes, bananas or pineapples? Who would've thought that -- with a little bit of creativity -- you can even create a fruit garland with balloons.
Balloon Garland as Table Centerpiece

Isn't this balloon garland a fabulous eye-catcher for your Thanksgiving celebration? The mix of different sized balloons in orange, rose and pearl white colors makes for such a bright and happy atmosphere.
The balloons are arranged and kept in place with a balloon decorating strip, which makes this garland much easier to do yourself than you may think.
Floating Balloon Clouds
Be on cloud nine for a while with these heavenly floating balloon clusters. Ideal for weddings, anniversaries or corporate events. You can make balloon clouds yourself with our step-by-step tutorial.
Strawberry Balloons - Yum!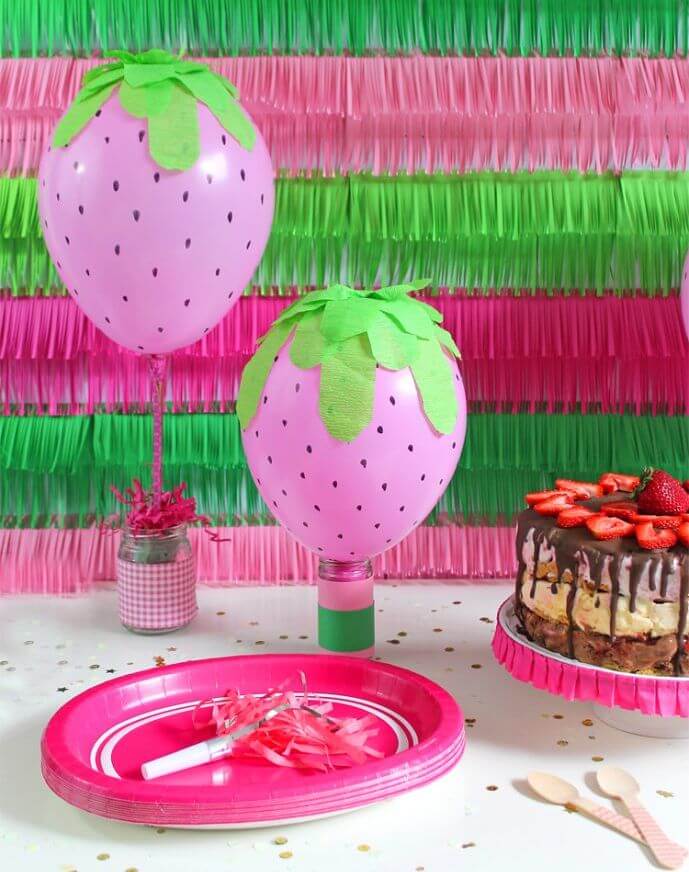 These fun decorations are super easy to make. All you need are pink 11 inch latex balloons, a black marker, green crepe paper, glue, paper straws and empty jars as base. Or you could hang them from the ceiling with fishing line.